MAKE YOU OWN LONG SOCKET WRENCHES
List of Tools Needed.

Make the PCV Socket Wrench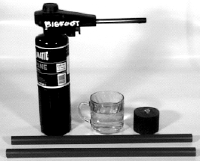 Here's the tools needed:
Water in glass or dish.

Two sections of 1/2" Schedule 80 PVC pipe cut 16" long.

One 1/8 IP locknut for threaded lamprod.

Propane torch

Non-combustable surface, like a chunk of iron.
The process:
Place the locknut on the non-combustable surface. Heat the nut to a temperature that will melt PVC. Immediatley push one end of the 1/2" schedule 80 pipe, on center, over the locknut. 
After the locknut embeds into the pipe, rush to quench it in the water. Repeat the process for the second PVC pipe. 
As a means of identifing which end of the pipe has the socket, I wrap masking tape around the opposite end of the pipe, about 1 inch from the end. 

See the locknut embedded in the PVC pipe. If you have a remove the locknut, just screw some lamprod into the locknut and pull it out.